What is Non-Functional Testing?
---
A type of software testing, non functional testing is a major testing term that encapsulates various productive testing techniques to evaluate and assess the non-functional traits of a software application. Prime purpose of this testing methodology is to evaluate the competency and effectiveness of an application, under variant and unforeseen conditions. This type of software testing can be seen as one stop solution for various software related questions, such as:
How quickly it responses?
If it is compatible with its surrounding environment including peripheral devices, software and hardware?
How many users can simultaneously login into it?
How quickly it can recover from any sort of failure, breakdown or interruption?
If there is any issue w.r.t its installation of multiple variants of devices, OS, configurations and network settings?
If it can be easily and quickly adapted by a new user?
What are the different Types of Non Functional Testing?
Non-functional testing can be categorized into various types of testing, which are mentioned below:





Non Functional Testing Infographics

What are Non Functional Requirements of a System?
Nonfunctional requirements are immensely important as they specify how the system behaves in terms of constraints and prerequisites. Non-functional requirements have a great impact on the whole software development & testing process as well as its cost and resource planning. Hence, these should always be taken into consideration during the project's cost estimation phase. Some of these requirements are: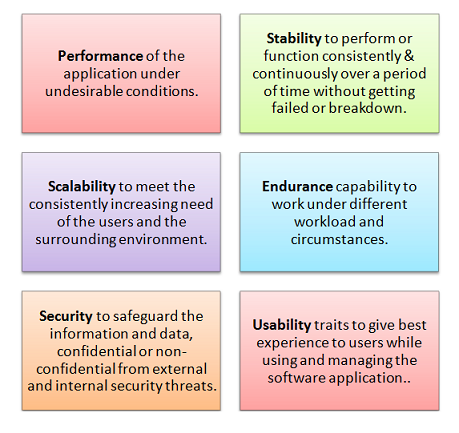 Performance of the application under undesirable conditions.
Stability to perform or function consistently & continuously without any breakdown or failure over a period of time.
Scalability to consistently meet the increasing need & requirements of the users and the surrounding environment.
Endurance capability to work under multifarious conditions, circumstances, and workloads.
Security to safeguard the information & data- confidential or non-confidential -from external & internal security threats.
Usability traits to give best experience to users, while using & managing the software application.
Response time to check the time taken to perform an action triggered by the users.
Quality is the most important factor that contributes to non-functional requirements. This requirement is demanded by everyone and is the deciding factor for the popularity of the end product.
Concurrency & Capacity decides whether the software product will be able to handle multiple computations executing simultaneously, as well as the average and maximum number of concurrent users.
Besides these requirements, there are few other requirements of non-functional testing. Read our new article to know more about functional & non-functional requirements.
What May be Tested in Non Functional Testing?
Unlike functional testing which is based on pre-defined requirements and specifications, non-functional testing focuses on user's perspectives like compatibility, maintainability, load capability etc. Some of the areas that may be covered under non-functional testing are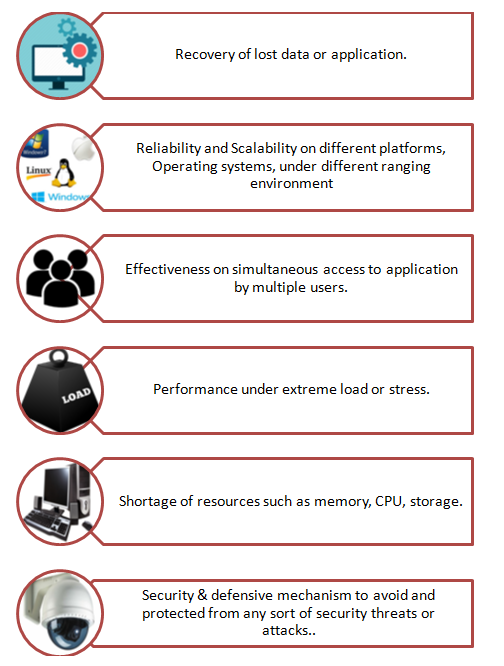 Functionality:

Tests the major functionality of the software such as its features, processes & integration.
Ensures ease of use and optimum user experience.

Recovery:

Recovers the lost data.
Prevents shortage of resources such as memory & CPU storage.

Security:

Ensures the security of application data, network, & their compliance.
Prevents losses in finances, & credibility and security breaches.

Performance:

Performs testing to ensure the speed of application, resource consumption, scalability & sizing.
Checks performance under extreme load & stress.

Usability:

Tests the usability of the application and validates easy navigation.
Evaluates application's aesthetics, flexibility, & documentation.

Other important features:

Reliability and scalability on various platforms, operating systems, environments.
Effectiveness of the application during simultaneous access of multiple users.
Non-Functional Testing Process:
The process of non-functional testing involves six important stages, wherein the team of testers plan and work together to test the functional requirements and the readiness of a system. Therefore, the process of non functional testing is:
Planning: Here, the whole team comes together to plan and prioritize the details as well as the requirements of testing. Additionally, the team determines the techniques & methodologies of testing and select the necessary tools.
Preparation: Once the team is allotted their specific tasks, they work together to prepare the test case and test data based on the functional specifications. Also, the tests are run under various conditions and load to monitor system failure & recovery, speed, and more.
Setup: After planning & preparation is completed, a proper environment is setup for the process of testing. The team makes sure that the test environment setup is easily configurable & repeatable, after which all the configurable files are stored in a central repository for easy accessibility of the whole team.
Test Execution: This is the most important stage of the whole process as here the test cases are executed by the testers to get expected results.
Record: The team observes and records the outputs of test and its response time, which are then compared with the expected requirements and outputs. These records are extremely important as they can be used for future reference as they consist a summary of the whole process.
Analysis & Improvement: Testers check system's compatibility with the non-functional requirements, find hidden bottlenecks in the system, and validate its configurable settings, while regularly performing necessary improvement.
Non Functional Testing Parameters:
There are various parameters for non-functional testing, each of which are extremely vital for getting accurate as well as expected results. These ensure that the application meets the requirements of the client and offers them exceptional quality, performance, features, etc. Therefore, some of these parameters are:
Availability: Checked through stability testing, this determines the degree to which the user can depend on the system during its operations.
Efficiency: Tests the extent of capacity, quantity, & response time handled by a software system.
Reliability Testing: Performed to test the limit of the software until it continuously performs the specified functions without failure.
Survivability: To ensure this parameter of non-functional testing, Recovery Testing is performed by the testers. It checks that the system continues to function & recover itself in case of system failure.
Flexibility: Validates that the application works remarkably in various hardware & software configurations, such as RAM, CPU requirements.
Reusability: Makes sure that the software application can be converted and used in another application. In short, it validates the compatibility & reusability of the software.
Interoperability Testing: Here, the purpose is to check whether the software can interoperate with other components of the software as well as other software systems.
Portability: This refers to the flexibility of the software system to transfer from its current hardware or software environment to another.
Performance Testing: This ensures that the system meets the basic criteria in order to deliver best results.
Non Functional Testing Checklist:
The list of non functional parameters is quite non-exhaustive, therefore here is a non functional testing checklist for you to help you with the whole process.

What is the Difference Between Functional and Nonfunctional Testing?
A discussion of non-functional testing is incomplete without a proper comparison between functional and non-functional testing. Functional testing and non-functional testing are both integral part of Software Testing Life Cycle (STLC) and play a major role in developing a bug free software with unique features, performance, scalability, and more.
Functional Testing:
A black box testing type, this type of software testing involves complete integration of the software to check its compliance with the specified requirements. Performed both manually and with the assistance of tools, functional testing is a crucial quality assurance process. This is usually executed with the assistance of smoke testing, sanity testing, regression testing, and usability testing.
Non Functional Testing:
Unlike functional testing, this type of software testing is usually performed against the non-functional requirements to check the readiness of the software system. The main focus of non-functional testing is to ensure optimum customer & user experience.
For a detailed comparison of functional Testing and non functional testing, click here.
Conclusion:
Non Functional Testing is as important as the functional testing is. Without verifying and validating the interoperability across multiple platforms, maintainability, security, portability and other miscellaneous features, we cannot guarantee the product readiness for its market release and extensive use by the users in the real environment and factors.